End-to-end or any part of the process.
We know tackling social media can feel like squeezing a balloon. As soon as you have a handle on some aspect of it, another part needs your attention. It's not hard to lose all your time in research and working out how taking one action will affect another.
Since we took off in 2012, we've grown from providing social media advertising campaigns with provable returns to offering an end-to-end process for clients who want the full service. That might be social media advertising, social media content, lead nurturing or managing the CRM you use to turn leads into sales.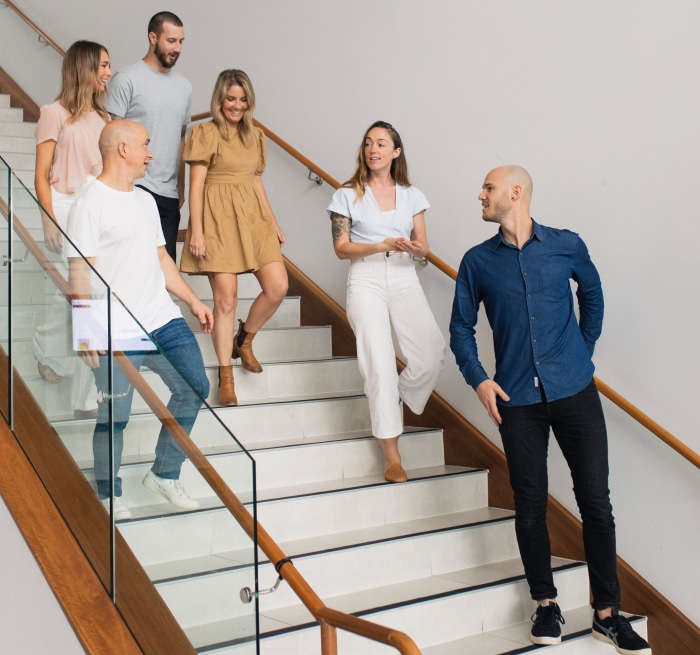 Systems that produce results
Social media changes every day, but with 10 years of campaigns under our belt, we're constantly evolving systems that are proven to produce results.
Continuous return on investment
Are you a business owner or a marketing manager looking for a continuous return on your investment in lead generation? If you are, we're here to make your life easier by stepping in at any part of your process or indeed relieving you of every time-consuming step — from content creation to automating your sales process. Whether you sell services or products, we can put your marketing and sales process on rails — from leads in the door to ringing up sales.
"Perry is probably the most knowledgable person that I know when it comes to using social media for your business. After trying many campaigns myself and paying for a so-called expert team, I needed real help to make social media work for my business. Perry's insights propelled my business to where it is today."
Glenn Palmer, Putt18
Our clients
We work with great businesses to deliver sales from social media
Perry Henderson
Founder
Perry started his career in social media the way that many people do — by boosting posts. In Perry's case, he was boosting posts for the DJ agency he worked for. His success at booking gigs through social media was enough to give him the bug for using social media to generate leads for other businesses.
The bug was serious enough that, in 2012, Perry put his headphones in a suitcase and flew to Michigan to take one of the world's first intensive university programs in social media marketing.
Since studying in the US, Perry has continued to apply ever more advanced data-based approaches to lead generation. Along the way, he has built a seven-person team around the same philosophy — data or it didn't happen.
Hannah Evans
Digital Marketing Strategist
Hannah's passion for digital marketing was born out of wanting more influence over her clients' success than managing one or two marketing channels.
Now with 7 years of professional marketing experience under her belt, Hannah brings confidence and clarity to our clients' digital marketing by analysing historical data, developing digital strategies, and holding everyone accountable to its success.
Whether SEO, Google Ads, Social Media or email, Hannah will build out your Buyer Journey and Customer Journey to end complexity and maximise your time and marketing budget.
Christopher Lapa
Marketing & Growth
Chris has worked with hundreds of businesses of all sizes over 10 years! He has developed their strategies but most importantly has turned these strategies into real business results.
A purebred marketer at heart, Chris began his career after completing his Bachelor of Business at the University of Newcastle and studying abroad at Michigan State University alongside Perry.
After co-founding his own social media consulting business, Chris jumped into a professional digital marketing role at Channel 9 in Sydney. Following this, Chris led a digital marketing division at Southern Cross Austereo, and then took the leap to lead a full-service marketing agency team for 5 years.
Now at Missing Link as our clients' Marketing and Growth Strategist, Chris uses over a decade of marketing knowledge to help organisations plan and execute their digital and business growth goals.
Beau Cantor
Creative
Creativity and engaging visual assets are essential ingredients for thumb-stopping social media content and ads.
Starting his career interning at one of Australia's leading social media agencies, Beau moved around the Sydney agency landscape and even worked at the NSW Department of Industries for a time before joining the Missing Link team.
Beau continues perfecting his craft every day, producing content and ad visuals that have been seen by millions and led to thousands of purchases and enquiries. His creative approach to design is constantly refined with tried and tested data from our ads team, leaving our clients with high-performing graphics that build on winning results.
Willow Boyd
Paid Advertising
Willow spent many years working with small businesses building growth strategies in Canada. After completing a BComm in Entrepreneurial Management, Willow's passion for working with business owners led her into the marketing industry.
Willow later moved to Australia and kickstarted her career, completing a Diploma in Social Media Marketing and working as Social Media Manager before joining the Missing Link team as a Social Media Paid Advertising Specialist.
Willow continued to build on her knowledge to become a Certified Direct-Response Copywriting Specialist and Meta Digital Marketing Associate. Her strategic and proactive mindset with campaign optimisation continues to exceed expectations and set new client performance benchmarks.
Paul Taylor
Email Marketing & Automation
As our go-to technician for email marketing, automation, and lead nurturing, Paul leans into a decade of experience in this field.
From marketing to sales, and onboarding, Paul will pull apart processes and then put them back together, making them simpler, faster, automated, and more effective.
Lisa
Project Management
As our Operations Manager, although you may not be speaking directly to Lisa, her presence will be felt with our air-tight systems and processes.
Lisa keeps our projects running on time and technology up to date. There's no technical or operational issue too big or small for Lisa, which gives the rest of our team more time to focus on developing their craft and communicating with clients.
Are you ready to maximise your return on social media marketing and lead generation?
If you're looking for an agency that wants to be held accountable for results, we should talk.